Remember back in June when
I posted
these photos, found on
Pinterest
?
I wasn't kidding when I said I was totally enamored. And as good fortune would have it, some big name bloggers (
Katie
,
Sherry
,
Emily
and
Lana
) are doing a Pinterest Challenge and I happened to have a day off work this past Friday. So I found a
cross-stitch pattern
online that I liked and got to work. I began by chalking a grid on my wall. This would have been simple if I had a chalk line, or even an overhead projector, but I didn't have time to wait (or rather, was too excited to get started) and so used a level and painter's tape to get my lines on the wall. They're incredibly hard to see in the first photo, but the second gives you an idea of how I spaced things out. The rows were each two inches apart and the columns were four. Mostly because I got tired of drawing vertical lines.
I'm notorious for taking things to the extreme, so it was fitting that the pattern I picked had over a thousand Xes. Oops! Nothing like being ambitious, right?! So I started in the very center with yellow and orange paint then switched to the wine-colored hue, making Xes that were about an inch square. Eight to each box on the grid. The first few colors were the most time-consuming since it required a lot of counting to make sure each each color was in the right spot.
But I kept trudging along and slowly but surely you could see the flower start to take shape. When I got to the last color (the lightest pink) things went really quickly because it was just fill work, no counting required. I just added a couple leaves and it was done.
I really love it!! It's perfect for this space, which pulls double-duty as a guest room and craft room. The vanity beneath it in the photo below is just there temporarily (it's going to be painted and moved into Charlotte's room). I have grand plans to build a desktop hinged to the far wall (the one to the right of the art) that will fold down while it use, but fold up when we have guests over since the pullout sofa is located opposite the art and would crowd any desk that couldn't be hidden away. We'll see when that happens!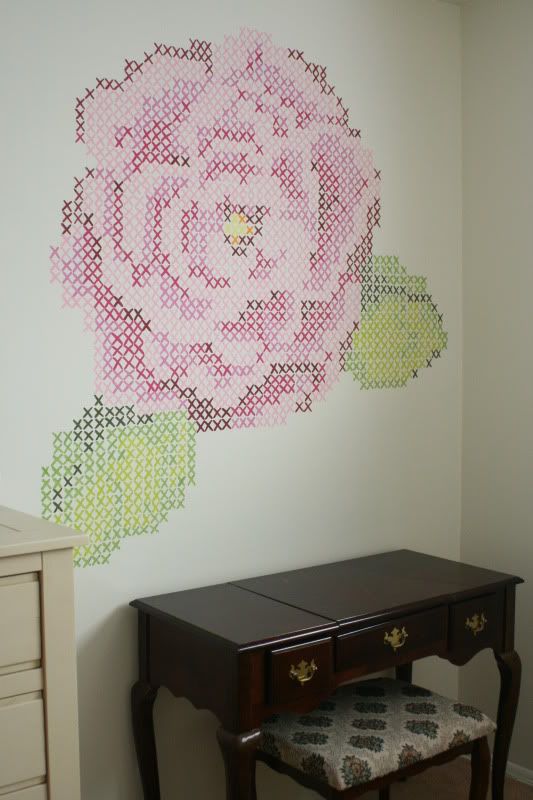 So all told I spent less than $10 on paint, a brush and the paint tray, not to mention two hours of my time drawing the grid and seven hours actually painting, and got some artwork that I'm super proud of! What are your thoughts? Is it too crazy for you, or are you itching to make something similar for yourself, just like I was about a month ago?
P.S. Sorry for the less than stellar photos. I don't have a wide angle lens and this space is pretty tight and lacking in natural light.