Yes, I know that it's been over a month since Christmas, but my friends and I just got around to celebrating. Procrastinators (nearly) the whole lot of us. Waaaay back in October we drew names and agreed that our presents could have elements that were purchased, but had to mainly be homemade. Some of us thought up gifts easily, while others had to really get creative. Here are some of my favorites. And by that I mean the ones I had the best photos of.
My sister and I drew our friend Kate and her boyfriend Darryl. They have a long-running feud about which is better - a pirate or a ninja. We figured we'd help them find out and created a cookie battle box, complete with cookie dough, frosting and pirate and ninja cookie cutters.
Mandy received a gift that had me literally laughing out loud. If you lived through the 80s/90s you'll remember the game MASH. Kristin made Mandy her own version, in which she's married to Henry Cavill, planning Disney World trips as a career and living in Phoenix (where there's no humidity to mess with her hair). So hilarious! And Regina exacto-knifed out a silhouette of our group that, when backlit, will be a great addition to Christian's home. I wish I'd been able to snag a photo of just how cool it was lit up!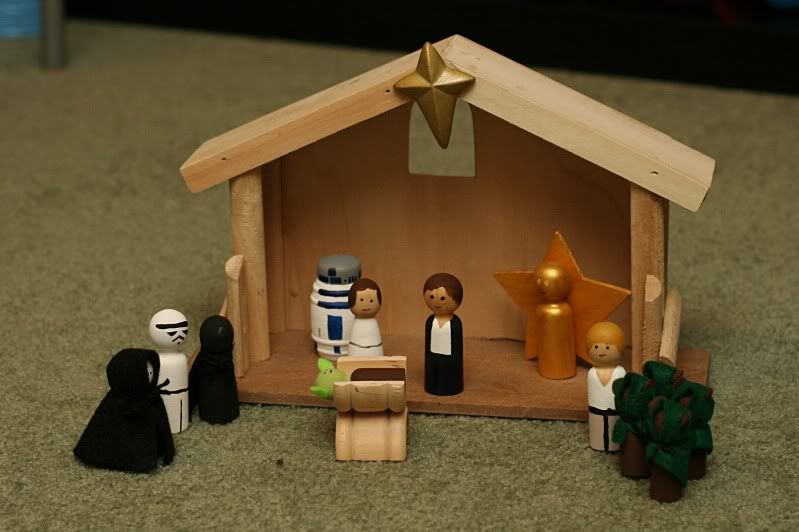 Joe's gift was definitely my favorite of the night! Kate painted pegs into Star Wars characters and grouped them around a stable to create a Star Wars nativity, complete with Yoda as baby Jesus. Now, don't think us heathens - we actually all know each other from church. But scratch that, my favorite gift of the night was actually my own. Christine, who watches Charlotte during the day, gathered together a list of funny things she's said and started a notebook for me. So prepare yourselves, because Charlotte anecdote posts are about to get longer!
Christine was also nice enough to put together a little gift for Charlotte, so she wouldn't feel left out. She turned some photos of Charlotte and Oliver to black & white and then washed them out, printed them and had them bound, to make a coloring book for Miss C. Chuckles added some color to them immediately after waking up the next morning!!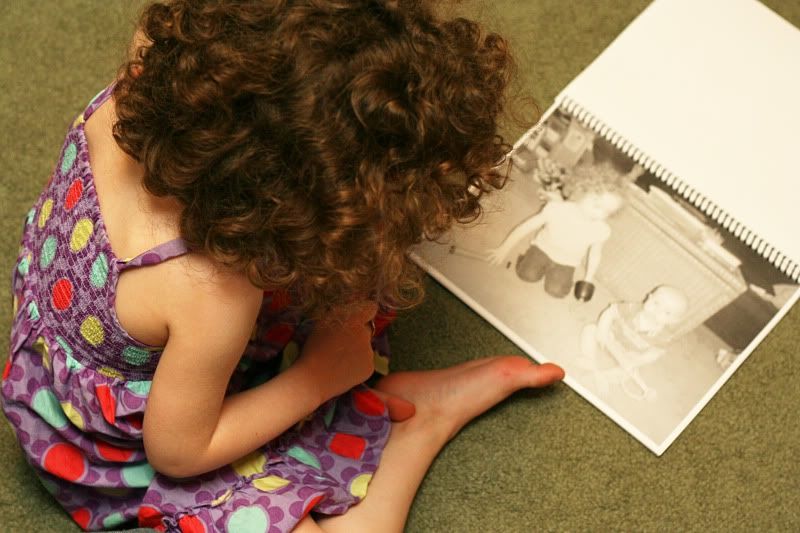 So now I look forward to our next group party. We may have other big get togethers between now and then, but for now I'm looking forward to our trip to NYC to see Newsies on Broadway in May. Can't wait!