Charlotte's 4th birthday party was a blur, to say the least. It felt like it crept up on me quickly and then started and ended quickly too. I didn't do nearly the planning that I have for other parties, but with the help of my mom and sister we did give my girl a great time.
Weeks ago Charlotte requested a flower party and it was easy to oblige. My sister added cupcake liners to twinkle lights to make a garland for the sunroom. My mom made the tissue paper flowers that hang from our ginormous umbrella. (Seriously. It's huge. It covers almost the entire patio.) And I picked up some flowers from Costco and combined them with some from the yard to make arrangements for all the tables. I think my favorite of the flowers were the tiny purple ones I found in the garden. I'm pretty sure they're weeds. :)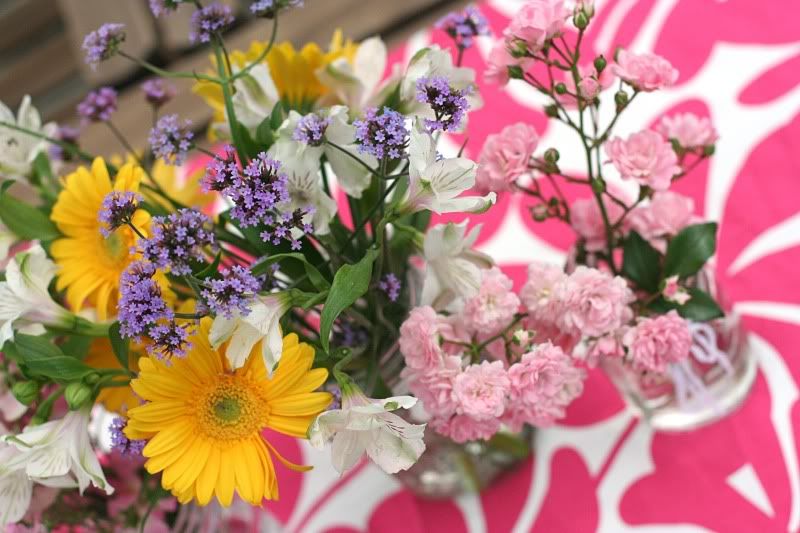 The goal for the food was just that it be yummy. So we served up deli sandwiches from Costco, along with PB&J for the kids, pasta salad (thanks Mandy!), bean and corn salad (thanks Mandy!), corn on the cob (thanks Mom and Dad!) and loads of fruit. The plastic produce containers I just snagged at Target were perfect for the occasion. Love them!
After we ate we unleashed the kids, small and large, on the yard. It was around 90 degrees earlier in the day (thankfully, the party started at 5pm, so it had cooled some), but the kiddie pools and Target dollar section squirters were much appreciated. The wiser ones in our bunch (take note, that's mostly ladies) situated themselves safely on the patio side of the yard.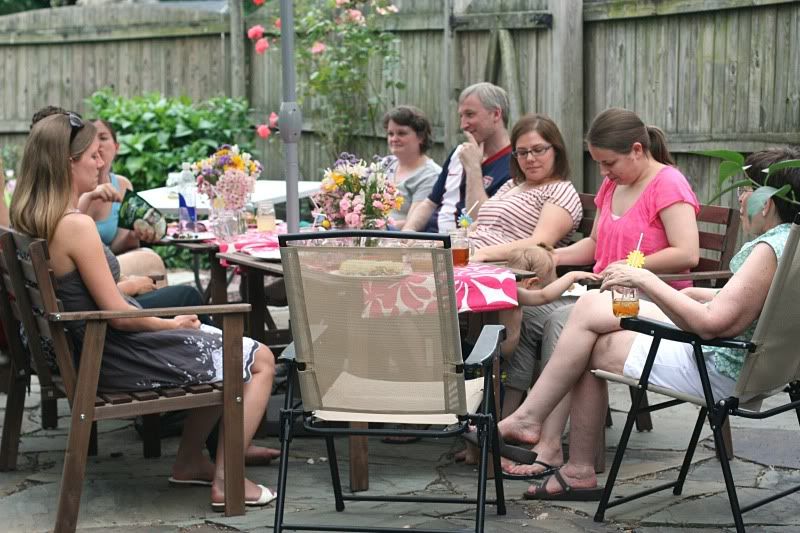 It didn't take all that long for the kids to be too exhausted, or too cold (or both) from the water play, so we refueled with dessert. I made pudding cups with crushed oreos, sprigs of mint from the yard and wooden spoons. My hope was that they'd look like potted plants with wooden plant markers. What do you think? And the cake was bought at Safeway. I just added some crepe paper flowers to the top. Yum! Well, the cake was yum. I didn't try the flowers. ;)
Then it was present time. As usual, we were overwhelmed at how gracious our friends and family are. Charlotte received some great loot, mainly of the Barbie and LaLaLoopsy variety. My personal favorite was the Charlotte doll that Mark and I got her (from Princess and the Frog). She's just so darn cute. Charlotte really loved everything, and has played with it all, but her current fave (two days post party) is the dollhouse I found her at an antique mall (and, of course, didn't get a picture of). It was a steal at $10. She and I plan to redecorate it and have our work cut out for us since it's about 5 feet tall and 3 feet wide. Eesh!
All told, we had a really great time! The weather was hot, but not unbearable. The food was yummy, the fellowship was incomparable and my little girl was well-loved. Ahhhh... success. But, I'm exhausted, so this is the last you'll hear from me this week. I plan to be back to the regular swing of things next week.
P.S. Interested in seeing Charlotte's previous parties? Here's the
Peter Pan party
from last year and the
Charlie & Lola party
from the year before.