Just before Charlotte's
birthday party
I was digging through my parents' storage room in search of my old dollhouse furniture to go with the dollhouse Mark and I got her. (I found the furniture. Maybe I'll snag pictures of it sometime.) In my search my mom and I unearthed a box full of old books that used to belong to my siblings and me. Here are a few of my favorites:
According to my mom, most of these were bought at the Weekly Reader book fairs that our elementary school had multiple times each year. I don't really remember the book fairs at all, but I'm pretty confident when I guess that all four of us probably loved being able to pour over the list of books to decide which was just the right one to use "our own money" to buy. I have a feeling Charlotte will be just as excited when she starts having regular book fairs at school.
For now she'll get to look over all my old favorites. I'm pretty sure that
Stone Soup
will get looked at a lot. (Did you check out the link in the book title? Crazy that this version is selling for close to $50!!) I'm sure you know the story -- some travelers are unable to find food in the town they're visiting because the townsfolks are too stingy to share and so they suggest making stone soup. With some prodding the townsfolks add ingredients to the stone-filled water until they have a delicious soup ready to share. I vividly remember making this soup in school and figure our family will make some this summer as we read through this book.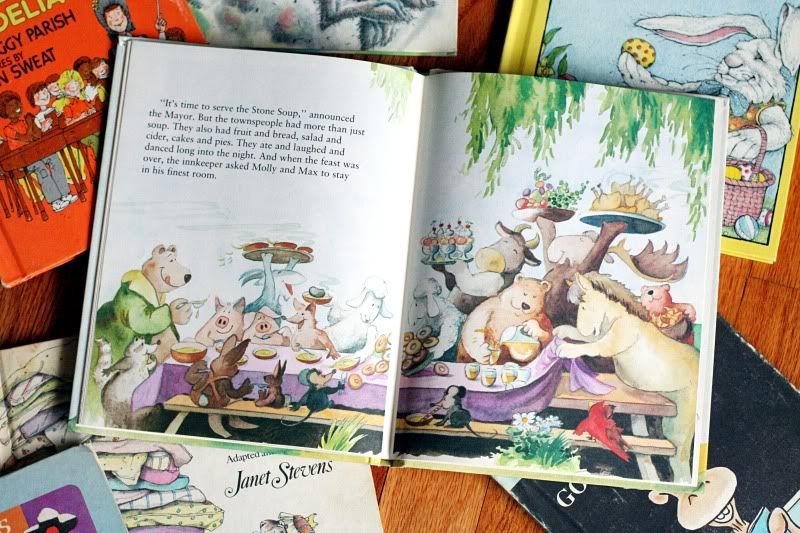 We also plan to read
The Snowy Day
since it's the book I remember most of the bunch. Although we may save it for fall/winter given the subject matter. It's about a boy spending the day in the snow. Nothing earth-shattering in terms of storyline, but the artwork is really fantastic! It's got a mix of watercolor, cut-outs and collage, all in interesting colors. It even won a Caldecott Medal in 1963.
Charlotte was never that into books as an infant. She'd much rather play with toys or sing. But she's all about reading now. I catch her on her bed long after bedtime every night, thumbing through a book or two. I did the same thing as a kid, so it's no big surprise that she's become a night owl with a love for reading too. I can't wait to add these oldies, but goodies, to her pile of choices! I may even let her keep the trio of owls piggy bank in her room with the books. Then she'll be able to start saving for future book fairs. :)