Charlotte started dance class on Saturday, so prepare for a photo overload!! I was not ashamed to be the mother standing there with DSLR in hand (everyone else was using their phone), taking photo after photo of my little cutie. In the waiting area. In the classroom. In the parking lot. She's lucky I didn't take any photos of her in the restroom. ;)
The day started like this. Goofy faces and a silly attitude. Which I was actually quite thankful for. A while back (last summer, I think) we signed Charlotte up for a toddler gymnastics class that our county's parks and rec program was offering. We went to two classes before we called it quits. She was super clingy and cried a lot. She just wasn't prepared to be separated from me at all. With her going to school a few days a week for the past six or so months, I knew she wouldn't have that attachment. But I still worried that she'd be in a cranky mood and wouldn't want to participate. Shockingly enough though, she seemed just as excited as I was.
Having taken dance classes for years (about 15 or so), and having taught for the last few of those years, I had pretty high expectations of how the class would be conducted. I wanted her to be learning at a studio that stressed the fundamentals (ballet) and had a lot of variety available should she really want to focus on dance. And I really wanted it to be a place that wasn't quick to make little girls grow up (ie. doesn't dress them in hoochie mama costumes). I did what research I could online, and then just hoped for the best. Things seem up to my standards so far, so yay for that!
Sorry for the not so stellar in-class shots (had to take them through a window), but is she not the cutest little ballerina you ever did see? She twirled and jumped and marched every which way. And was talking a mile a minute after class was done about the new things she learned. The photo below is her sweet smile after the class. Love it! A while back my mom found a small ballerina trophy at a thrift store and we gave it to Charlotte after we got home from her class. She was amazed that she was good enough to get a trophy of her very own. So, so cute!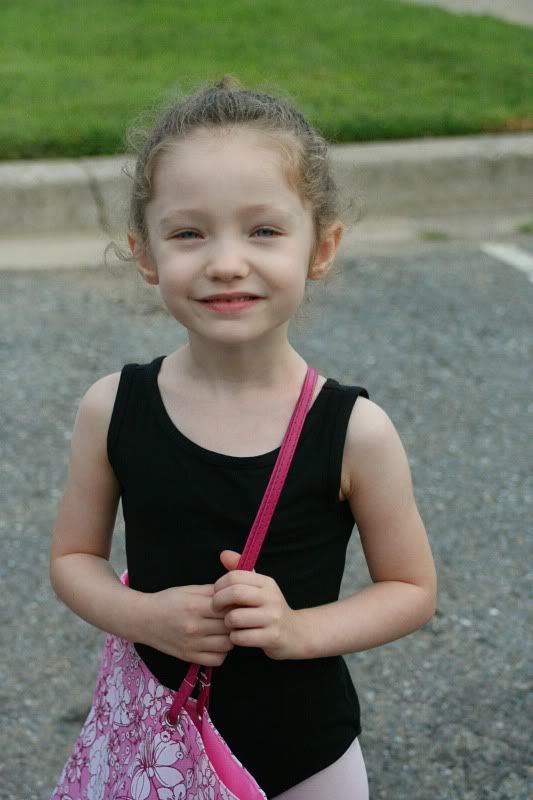 Thanks for taking a peek at my little cutie!! Now, how about clicking on over to the room makeover giveaway at Vintage Revivals and voting for me -- number 126. Thanks a bunch!