Charlotte has been using a pillow in her crib for a while, but I'd never gotten around to finding one that actually coordinated with her room. Until this past Monday that is. (Shush. I realize the kid is 2 years old. I move slowly. Whatever.)
Mark was working in the basement and when I went down there to talk with him I spied some pillow forms in the corner. I can't even remember when I bought them or why, but I decided it was high time that Charlotte be upgraded from a beat up, tan throw pillow to a pair of cute pillows of her very own.
Using
this tutorial
, the newly discovered pillow forms and an old fabric shower curtain I whipped up these:
And I literally mean whipped up. It only took about an hour from start to finish to make the pair of them. I love that there's no zippers or buttons on them, but they'll still stay firmly in place thanks to the envelope closure that you can see on the pillow that's facing backwards in the above photo.
They're super soft and the chenille flowers give them some fun texture. Even better is that they were totally free!
Now, I have to divulge a secret. Charlotte hated the pillows the first night she found them in her bed. They got a dirty look from her before she handed them to me and pointed to the door. But she used one during her nap the next day and has been seen snuggling up to those chenille flowers ever since!
Linked to: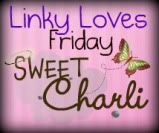 "