This past weekend I babysat for my brother and
sister-in-law
. Charlotte was thrilled to have a pair of playmates in Elijah and Caleb! I always try to plan an activity for when we have little ones over - partly because it'll take up time and keep them occupied and partly because I think Charlotte enjoys these activities more when she has someone to share the fun with. Last time we made
marshmallow sculptures
with Penelope. This time we did some apple print painting with Elijah.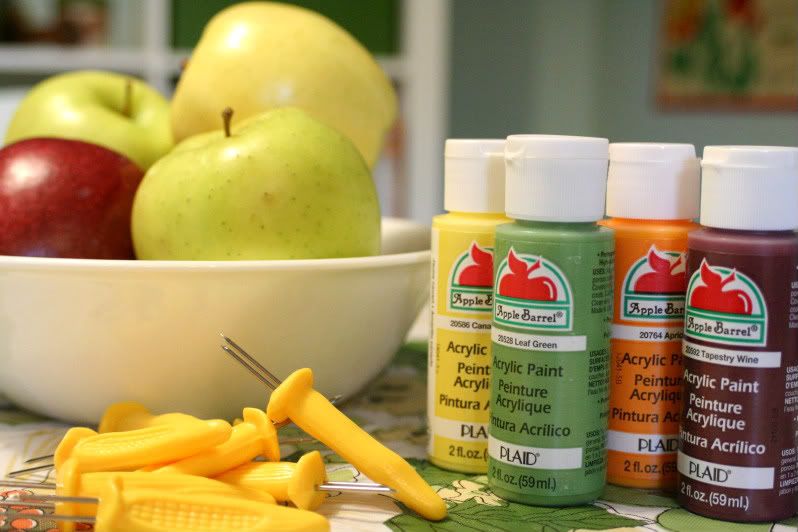 I put a tablecloth on the dining table, gathered my supplies, and stripped the kids down to their underclothes.
As the guest, Elijah got to do the first couple prints. I just dipped the apple in paint each time, wiped a bit of paint off so it wasn't too drippy, and handed it over. The kids did the rest.
The apples were quickly set to the side in favor of fingers. No surprise there. Each of them began by just using their pointer fingers, but that quickly changed to whole hands. Charlotte was the first to really get messy. No surprise there either.
You can see my method, since I couldn't find paper plates, was to put the paint on paper towels, all situated on a baking sheet. This actually kept things pretty well corralled and made for easy cleanup. Note to self for future painting endeavors.
It was bedtime before we got around to taking after pictures, hence the change in lighting. We decided to make the orange pumpkins into jack-o-lanterns using construction paper based on
this pin
. Charlotte told me she's giving her masterpieces to Elijah (she's infatuated with him lately) and Gramma. I'm pretty sure I'm going to have to keep some for myself though!
Have you taken on any fun fall projects lately?