We had a busy few days toward the beginning of last week. So busy that I'm just getting around to blogging about it now. For shame! As you know,
Mark's mum arrived
Friday night. She barely had time to recover from her overseas flight before we jaunted off to Pennsylvania/New Jersey for a few days of relaxation.
We headed out Sunday afternoon to Princeton, New Jersey for a little down time and a day at
Sesame Place
. Visiting this park was number one on our
summer plans
, as well as on my
30 Before Thirty
list, and I was thrilled to get it crossed off both lists before the weather really warmed up. Thankfully it was only in the 70s and 80s, as opposed to the three digit temps we experienced the week before. Phew!
We hit Sesame Place pretty close to opening on Monday morning and headed straight for the younger kids' area. Charlotte's been on carousels before, but never with her nana. What fun!
Then we hopped on over to Big Bird's Balloon Race (think teacups that also go vertical) for a quick ride. After a long wait. Sheesh! That line was crazy. But Charlotte loved the ride, so well worth it.
After a few more attractions (bouncy stuff, sand pit, etc) we stopped to grab a bite to eat. We're now the proud owners of a matching set of Elmo plates. Go us!
And then it was off to Sesame Place's version of the Dumbo ride. Charlotte was super-excited that the catfish was still available when it was her turn to pick her ride vehicle.
She was also excited to have done well at the carnival games, winning a frog and dog. Here she is throwing wiffle balls onto colored circles. Three of the four balls she threw ended up on colored circles (colored circles mean you get a big prize, as opposed to the white circle which lands you a teeny, tiny stuffed toy).
And then we took a quick dip in the kiddie play area. It's much more than what you see in these photos - there were small slides, big slides, jets and more. But the water was pretty cold so Mark and Chuckles opted for just a quick dip!
We warmed up by watching a few different shows and the parade.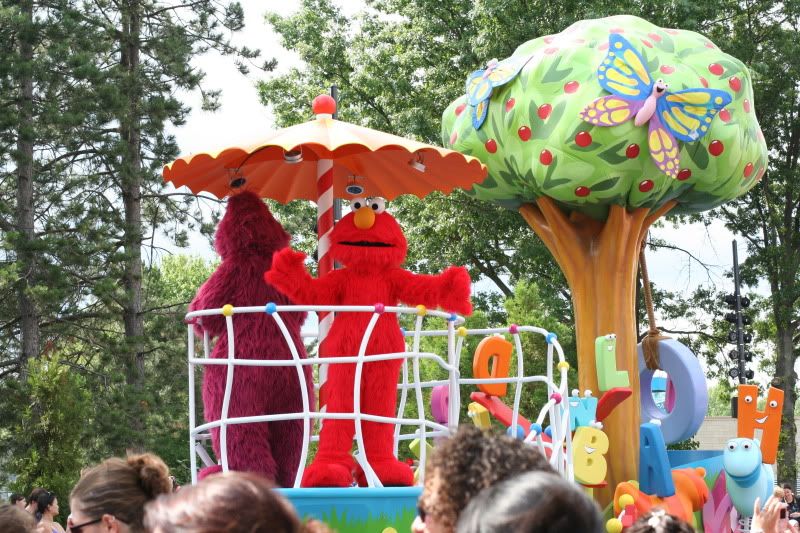 And then stopped for a treat. Contrary to what you see here, Charlotte was not given two ice cream cones. She just likes to switch flavors. A lot. Ask anyone who has ever been to
Rita's
with her and they'll confirm.
Our last stop was at the gift shop, where Charlotte snagged some coloring books and gummy candies. Which tasted pretty nasty, but were impressively long.
We stopped for dinner on the way home and arrived back to our hotel in the early evening. While Mark made a Starbucks run (so wise that our trip's planner - me - made sure there was one next door) Charlotte and I went down to the hotel pool. I'll spare you photos of me in a swimsuit (not pretty), but let you know that we had a great time! There happened to be a swim instructor there giving private lessons and he gave us a few pointers and let Charlotte use his equipment. She swam unassisted by an adult for about 45 minutes or so. Yay!
Now I'm on the hunt for a foam backpack to use at home. Anyone seen one? It strapped around the waist and was about three inches thick. That on her back with a foam noodle under her arms seemed to give her the best range of motion, as opposed to an actual vest. The stores I've checked out so far don't seem to have them. Hopefully I'll find one before the summer is over!
We closed out our trip on Tuesday by visiting
Adventure Aquarium
in Camden, New Jersey. It was a ton of fun! Charlotte really loved seeing the animals, especially the hippos. The aquarium is themed to the max, like no aquarium I've ever seen before. And they pride themselves on being the most touchable aquarium, with stations where you can pet sharks, sting rays, jellyfish, starfish, lobster and more. If you ever happen up that way definitely stop by!