I remembered in advance that yesterday was the 10th and that meant I needed to take
ten photos
throughout the day. I even charged my battery and set my camera out and ready to go. Normally Charlotte stays home during the day and Christine comes to our place to watch her, but yesterday my mom took her to get a haircut (it turned out super cute). In the rush of getting everything ready and taking her to my parents' house, and in true Katie style, I totally forgot my camera at home. And since Mandy and I got pedicures after work (a total splurge - haven't had one in about a year) and arrived home after 7pm, I didn't get any photos at all yesterday. But I figured I still owe you some pictures, so here are ten that have been posted here over the years. Enjoy!
Cooking up some hard candy with friends this past Christmas. Recipe included.



Elijah and Charlotte hold hands while looking at animals at the zoo.



A tutorial about making a messy masterpiece with your little one. My most popular post to date.



A peek at Charlotte's first attempt at potty training - still not successful. Anyone want to give it a go for me?



Pirate ship cupcakes from Charlotte's Peter Pan birthday party.



Charlotte's awesome skill at Sesame Place (the goal is to get the ball in a colored cup).



Mark and Charlotte ride on the people mover as we go to pick up Nana at the airport.



A how-to for the house numbers I painted on flower pots - from our last place.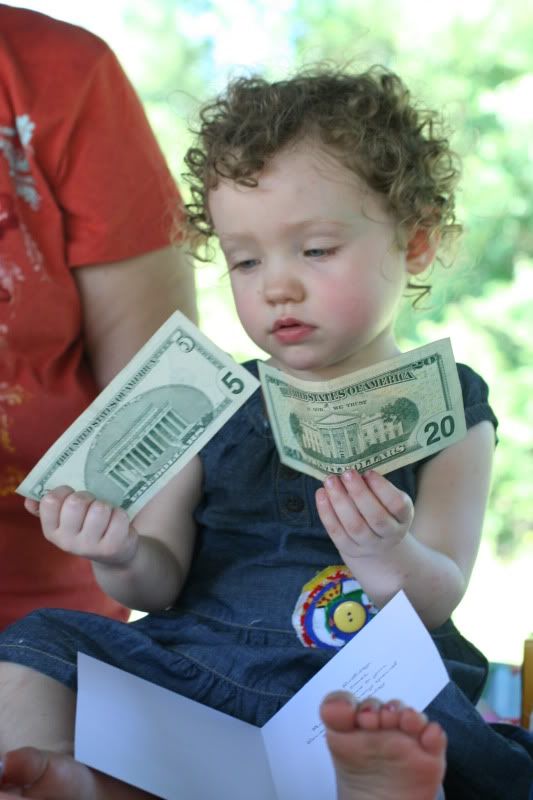 My grandpa (Charlotte's Super Grandpa) gave her money at her second birthday party. Doesn't she look thrilled?



Charlotte and Penelope enjoying a puddle on our last Disney World trip. Go figure.
P.S. Happy Birthday Mandy! Congrats on surviving the year of death!!